©Warren Nunn
NOTE: This is a lengthy article with several images and clippings that those with a connection to Callaghan Park should find interesting. Other Callaghan Park articles include Grass track opening | Newmarket win | Jungle Hunter completes double | and Racetrack photo-finish operations |
An excerpt of my report of Prince Velvet's win in the 1974 Rockhampton Cup.
FOR several years almost five decades ago, Rockhampton's Callaghan Park racecourse was a place I regularly frequented as a racing journalist.
As a young and very inexperienced reporter, I embraced the role. I loved the whole idea of thoroughbred racing.
My interest grew out of watching my dad glued to the radio on Saturdays to see how his gamble of "two-bob each way" went.
My first Melbourne Cup memory is from 1962. It was the day my family moved from Benaraby (near Gladstone) to Rockhampton where my father grew up in Margaret St, Allenstown. We stopped at the Calliope service station to listen to the race that Even Stevens won.
Within 12 months of starting my journalism cadetship at The Rockhampton Morning Bulletin in 1972, I was writing about racehorses.
For most of the next several years before I left Rockhampton, Callaghan Park was where I spent much of my time following both the gallops and the harness racing.
As a teenager at high school, I became friends with John Lisle, whose father, Col, was one of Rockhampton's top jockeys and trainers. In those days the Lisle family lived near the end of Denham St not far from the Crescent Lagoon school.
Col was still riding as his daughter Lyn also did in the days when female jockeys were few and far between. John also rode as an amateur occasionally.
In 1975, father and daughter teamed up at Duaringa for a couple of winners. Col won the first race aboard Social Call which Lyn trained. Later Lyn rode a horse she trained, Sir Donald, to victory in a race that featured all female jockeys.
After John Lisle passed away, I grew closer to Col and his wonderful wife Lottie. I was always made welcome at their Nerimbera stables.
At one stage Col announced he had a horse for me that he was gifted and said I could race in my name. From memory it was by a station sire out of a station mare. Don't know if a horse of such origins would make it to the racetrack these days.
Anyway, Tom's Call started at long odds at his first (and only) start at Callaghan Park.  Ridden by Harry Hone, Tom's Call was last out of the stalls, settled last and made no impression on the second last horse; finishing a long last.
There was no way I could have afforded to have bought let alone met the cost for a horse to be trained, so that was the end of that.
I did however get involved with a syndicate that raced a couple of pacers, Bunalbo and Raiology. I have written about that elsewhere.
Charlotte (Lottie) Lisle left us in 2004 aged 76 and Col passed away in 2013 aged 83.
Characters make racing
Racecourses are full of characters. Arguably provincial racing has more than a fair share of them.
I was bewildered in the early days when those around started to talk about certain people using their nicknames. Who the heck was Lizard I thought? And Rinso?
I soon learnt that Col Lisle was known as Lizard but I would never have called him that to his face. It didn't seem appropriate but others were poking fun at his rather pointed features shall we say.
Rinso was, and still is in 2021, a strapper.  His name is Henry Barnicoat. Many stories abounded about Henry and they may have been embellished over the years.
Strappers are vital stable employees who contribute greatly to a horse's wellbeing.
Mid-week meeting
In August 1973 I wrote about the Rockhampton Jockey's Club then experimental Wednesday race meeting. RJC chairman John O'Duffy was confident mid-week race days would continue.
That day Galhala recorded a sixth straight win for trainer Charlie O'Shea with apprentice jockey Lloyd Berry in the saddle.
Chief steward Kev Connor
In February 1974 Chief Steward Kev Connor drew the ire of the punters when he allowed a horse named Tipsy John to take part in the race despite bolting before the start and doing a lap of the course.
Tipsy John, who was raced by RJC committee members Tom and Tris Acton, was the raging 9/4 on favourite. He only beat one horse home, so Kev Connor was roundly criticised. The Acton brothers weren't best pleased either.
Kev Connor was a terrific fellow whom I got on famously with. I suspect he may have regretted the decision he made that day, but anyone from those years will tell you he was a tough but fair man.
He greatly encouraged me and allowed me to sit in on all stewards' discussions so I could learn how the racing game worked. Don't know if journalists would be allowed such privileges these days.
After he had a stroke about 1985, Kev moved to the Sunshine Coast where he passed away in 1994 aged 72.
Flood times
Flooding in late 1973 closed down Callaghan Park races for a month.
I did the rounds of several trainers to see how they were coping.
Richie Mannion was struggling to keep his horses fit; Bill Parker had water in his Princess Street stables; John Kelly, like Bill Parker, was most concerned for owners who were still having to pay to keep horses in work.
For Doug Hallett, his new stables on the corner and Ellis and Witt streets weren't affected by the water unlike his experience in 1954.
Family connections
When you grow up in a provincial city, there's a significant chance you'll meet someone who knows someone else, or who has a family connection.
I've previously mentioned going to school with John Lisle, and I had other connections as well.
As another example of family connections, Doug Hallett's niece married my older brother and one of his nephews married my first cousin. Another of Doug's nephews worked part-time for trainer Bing Crough.
I also got to write about Lloyd Hammond and his first win as a trainer in March 1974 with a horse called Montana's Best. The Hammond family was from Boolburra, about 100km from Rockhampton, and were neighbours and great friends with my maternal grandparents and my mum as well.
Lloyd died in 1979 aged 30-something from a brain condition. As an aside, Lloyd's mum, Beryl, only passed on last year aged 101.
Lloyd's brother David and my late uncle Jim Dobbs jointly worked property together at Boolburra.
That's how things are in close-knit communities. Bush people are invariably horse people and many of them gravitate to the racing game in some form.
And to further underscore how history has a way of descendants intermingling down the generations, I've discovered that my maternal grandfather's grandfather, James Thomas Coker, had a connection with the North Rockhampton Jockey Club in the 1880s.
It seems that this club and the RJC co-existed for a time but, without further research, I can't say whether the aforementioned club ever conducted meetings.
However, the name Schwarten was associated with the NRJC in 1889. J. Schwarten (presumably Johan Christian Schwarten) put forward a motion thanking James Coker for his work in helping establish the club.
About 80 years later, one Robert Schwarten and yours truly were students together at Rockhampton High School; both of us descendants of the two men mentioned.
If you happen to click on the link and read about my James Coker, you will discover he ended up in jail. We can't do anything about what our forebears did, can we?
Terrific Tanavar, Newmarket winner
The 1974 Newmarket stands out for me because of the drama before and after the race that Tanavar won from Prince Falcon and Natural Wonder.
Race favourite Hey Boy went lame on race morning and was scratched; apprentice jockey Gary Smith from Brisbane reported ill and was replaced on Prince Falcon by local apprentice Riley Taylor.
After the race Prince Falcon's connections unsuccessfully protested the result.
Tanavar was a more than useful horse as at that stage he'd won 14 of his 17 starts for owner George Otte and trainer Col Hamilton from Emerald. The last clipping I have that mentions Tanavar had him unbeaten in nine runs at Callaghan Park as of December 1974.
Wally Welburn had no luck in the race as well. He was to have ridden Hey Boy but picked up the ride on Dalrance which tailed the field and pulled up lame.
Two weeks later Brisbane visitor Prince Velvet won the Rocky Cup for trainer Jack Clayton and jockey Les Harris. Prince Velvet was a useful "Creeker" and  easily handled Rocky's then sandy loam track.
For those who don't know, Brisbane's Albion Park racecourse was an iconic sand track which was eventually closed down to make way for harness racing on the site near Breakfast Creek.
I well remember the only meeting I ever attended at the Creek. It was Wednesday, 15 September 1976, and I backed a long-shot winner named Stars In My Crown. His sire was Lonely Man who had to compete against Albion Park's best ever Creeker, Red Seas.
The Welburn family
The Welburn brothers, Viv and Wally, were Rockhampton's premier jockeys during the 1970s. In fact, on 21 December 1974, the brothers were the only winning riders on the five-race programme.
Even more quirky was the way in which the day finished. Viv had wins on Little Chris, Sir Janus and Half A Chance, while Wally piloted Sunset Seas to victory.
Viv was aboard Lyaleeta and Wally was on Perosan in the last race. Viv took Lyaleeta to the front and was always travelling well. Wally held Perosan together and looked likely to run past Lyaleeta in the final stages.
The pair went to the line locked together and actually dead-heated. So, either way, it was a Welburn win and an extraordinary end to the day.
And for anyone with a keen eye for details, Perosan should stand out. If you can't remember much about her, you should recall her son, Golf Field, who won Queensland's premier two-year-old race, the Golden Nugget, at the Gold Coast in March 1984 for trainer Col Lisle and jockey Ken Russell.
In an article about Wally Welburn  for The Sunday Mail in April 1984, I note he was known as "Wally The Whip", obviously for his aggressive riding style.
Wally mentioned how he carefully studied and learned from other jockeys, especially the older, more experienced men.
The late Col Lisle once told me that he showed Wally a little trick that would help him win in a close finish. He did not reveal what that "technique" was, but said that Wally used it one day to beat Col in a race he was sure he was going to win … until the last couple of strides. The "apprentice" had learned well from the master.
In that 1984 article, Wally spoke about starting his apprenticeship with Reg Coombes in 1967 and finishing with Vince Roberts.
Jockeys that influenced him included Jim Doyle, Norm  Fox, Russ O'Mara and Maurice Stafford; names that will be very familiar to many in the racing fraternity.
Wally also spoke of the great association he had with trainer John Kelly during the 1970s. He mentioned several horses that Kelly prepared including Star Chat, who went on to win in open company in Brisbane.
Perosan, Chario-Chariana and Bilsyn were other Kelly-trained horses that Wally had success on.
I recall that John Kelly often used the term "pal-o", or something similar. I believe he meant it as someone would say "pal", or "mate". He was always a pleasure to deal with.
Harness racing
At some point during the late 1970s, I concentrated on covering the harness racing and the late Chris Collins took over reporting the gallops. Chris later moved to Hong Kong where he was chief racing writer for the South China Morning Post. It was there he died in a car accident in 1990 aged 31.
Over those years, I also did my fair share of reporting on various sports as well as political and general news.
In the 1980s I was also contributing sporting articles to The Sunday Mail newspaper and eventually left The Morning Bulletin and worked at The Courier-Mail in Brisbane from 1986 to 2013.
Harness racing was new and interesting for me and because of my colleague John Wedmaier's enthusiasm for the sport, I too was drawn to it.
For me, it was all about the thrill of seeing horses compete. I enjoyed seeing others succeed as owners, trainers, jockeys, etc.
The new grass track
Of course there was a major change at Callaghan Park in 1984 when on 15 September the grass track was used for the first time. It replaced the old sandy loam/dirt track that often proved the downfall of visiting horses and jockeys.
I still have the official racebook from the meeting as well as negatives from the photographs I took.
The RJC chairman in those days was Neville Hewitt, a former County Party MP. He lived to 96 and passed on in 2016. Of course the main road bridge over the Fitzroy River is name after him.
Other names from the 1984 committee included Bob Meldrum, Col Gabel, Lawrie Moller and Darby Godwin.
Glenn Bailey was chief steward. His son Terry later went on to become Australia's best-known racing steward rising to the top role in Victoria. He later moved to Singapore.
Other stewards in 1984 included Ron Rundle, Nev Latimer; and Colin Truscott who was also the RJC handicapper. Col had previously tried his hand at newspapers for a time and worked with me at the Bulletin.
Bookmakers fielding that day included Ken Farrer, Vince Aspinall, Ted Price and John Day.
The first-ever winner on the new Callaghan Park grass surface was a five-year-old Irish-bred gelding named Le Toll. He was ridden by Lloyd Brazier in the 1300m Country Stakes and beat home Star Burglar (David Rewald) and Bunratty's Fire (Wally Welburn) in 1 min 20.6 secs.
Other winners that day were Bindari Rose (Peter Rewald), Super Selection (Larry Allen), Mammanist (Kevin Bohl), Drive On James and King Piper (Wally Welburn), and More Nonsene (Mark Unwin).
I should mention several other names from the 1970s which will ring a bell with many readers no doubt.
In 1974 Roy Cameron from Theodore boldly predicted his horse, Payout, would take out the Rocky Cup after a solid win in a lead-up race. Payout didn't win, but put up a brave effort for third behind Prince Velvet.
Another face from the 1970s was Brian "Bing" Crough, an old-school trainer who turned out his fair share of winners. He had some nice horses such as Burgundy and Space Centre. At one stage, Space Centre had 12 wins from 14 starts.
Picnic In The Park
In lots of ways, covering horse racing taught me much about a craft that I'm still practising almost 50 years on.
That's mostly because of the helpful and generous people in the racing industry who are always ready to talk about their horses and the industry in general.
Racing has its critics but the overwhelming majority of its participants love their horses and only give them the best care.
Undoubtedly the most dramatic evidence of that for me came in 1985 when Picnic In The Park broke a leg at Callaghan Park when going for his 22nd straight win.
Owner-trainer Malcolm Raabe wept openly and refused to let officials destroy the horse.
It's not unusual for horses to die from the shock of such an injury, but Malcolm was determined that Picnic would survive.
And survive he did! Picnic In The Park lived to 19 and is fondly remembered by those who followed his record-breaking performances including winning two races on the same programme!
That alone shows just how much horses mean to horse people.
For those who haven't seen it, there's a video report of Picnic In The Park's breakdown.
It's very challenging to see the horse in shock and trembling from the trauma of his injury, but also inspiring when you know that he survived and thrived to live out his years in comfort at the Raabe family property in Murgon.
In the Callaghan Park mounting yard before Picnic won his 18th race in a row, Theodre trainer Mick Hanlon provided a wonderful piece of theatre and with great humour.
As jockey Bill Cameron was ready to take his seat on Hanlon's horse Royal Scroll, Mick handed him a kerosene lamp and a cut lunch. "I reckon he'll need the lamp to find his way home," Hanlon quipped in acknowledging that his horse was no match for Picnic In The Park.
Royal Scroll ran last.
I submit that it's moments like this that make racing.
And it's what makes journalism so enjoyable because you never know what's going to happen.
I witnessed that little vignette and reported on it.
John Wedmaier
John Wedmaier had a long association with Callaghan Park both with gallops and harness racing. He was also at the forefront of pushing Central Queensland as a centre for breeding the next generation of thoroughbreds.
We first worked together as journalists at the Bulletin. He trained and drove pacers; helped establish Stewart Park stud with the stallion Bonfield and also hosted a television programme.
Weedy was a one-of-a-kind character whom Central Queenslanders got to know and appreciate over the course of his career.
We last spoke about five years before his passing, mostly about Raiology, one of the pacers in which I had an interest.
He spoke about how he was struggling with injuries after a fall from one of the gallopers he trained at Landsborough north of Brisbane.
Tony McMahon's tribute to Weedy says pretty much all you need to know about John Norman Wedmaier.
Other jockeys, trainers
In 1949 there was an article in The Morning Bulletin that listed the names of licensed jockeys, trainers, bookmakers and stable employees.
There are various familiar names such as jockeys Len Ashney, Harry Hone, Col Lisle, Norm Unwin, Jack Curran, Norm Fox and George Richardson.
Several of the bookmakers mentioned were still fielding in the 1970s including Ellis Childs, John Gott and Vince Murphy.
Other jockeys from the 1970s I recall include: Russ O'Mara, Norm Fox, John Stephens, Geoff Booth, Gary Evans, Noel Coyne, Len Ryan, Riley Taylor, Bill Barnes, Ian Stenhouse (who partnered the tough bush horse Bororen), Maurice Stafford, Kev Tranberg, David Johnston (who also had a harness racing driver's licence), Glenda Bell, and Ray Harmsworth to name a few.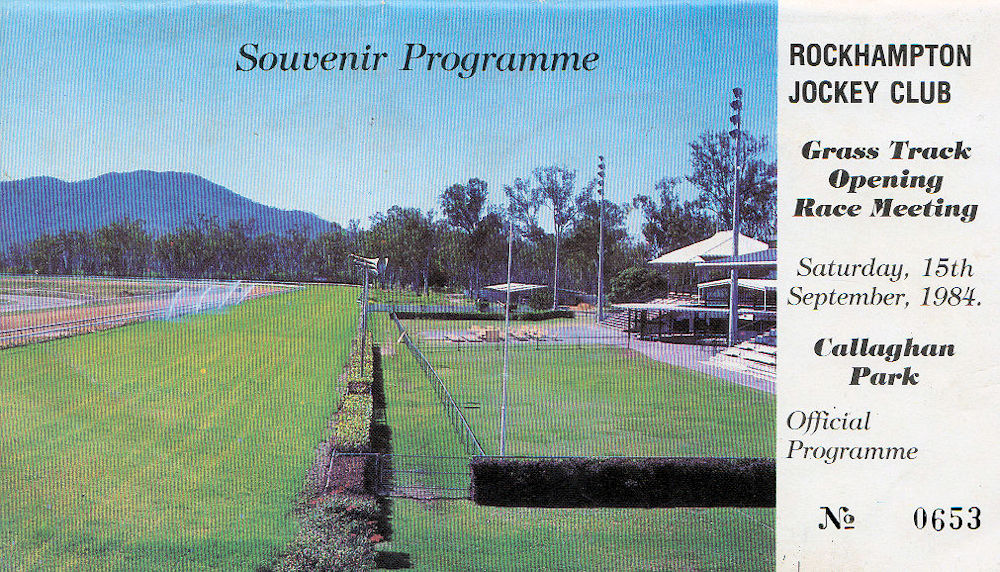 Racebook 15 Sep 1984 front cover.
Photo finish
As a part-time job, I operated the official photo-finish camera at Callaghan Park gallops, harness racing and dogs.
I also worked at various other courses including Gladstone and then in Brisbane mostly at the Capalaba dogs as well as at Doomben races, Kilcoy races and Beenleigh dogs.
Here's a print from 1984 at Callaghan Park. You can read more about that here.