By Warren Nunn
As Rockhampton High School celebrates its centenary in 2019, here's some recollections I have about my time as a student.
It's fairly predictable to have warm feelings about high school years. Those teenage years when, for some, long-lasting friendships begin.
I started at Rockhampton High School in 1967. I was in 8D, my form teacher was Sylvia Johnson and, having come from an all-boys school, I got to sit next to a girl for the first time. Miss Johnson was also my form teacher in Year 11.
Working out who I remember
As I look at lists of students that started that same year, many names are familiar but I can't be certain about those in my year 8 class. What I can say for sure is that there are some people with whom I'm still in contact more than 50 years later.
Here are some names I recognise from a list of those who started at Rocky High in 1967:
Lex Bartlem (We were in the same classes at Leichhardt Ward State School. Lex went on to become a career diplomat)
Greg Belz (city councillor)
Peter Clapin (We met by chance a few years ago and remain in contact)
Dennis Connors (We worked together as journalists with The Courier-Mail newspaper)
Judy Dobbs (Her twin boys started school the same day as my daughter at Patrick's Road State School, Ferny Hills, Brisbane)
Russ Faulkner (our wives worked together as teachers)
Barry Hare (Australian table tennis champion at one stage. Some of us used to meet at Lee Brittain's house and play table tennis. Barry would give me 15 points start, play left-handed and usually win 21-15!)
John Lisle (He was a friend after high school. A troubled individual, he took his own life. I remained friends with his parents Col and Lottie until they passed away)
Steve Moore (On Sunday nights, we'd walk about 5km from The Range on Southside to a dance in Nobbs Street. He came to my wedding in 1976 but thereafter we lost contact. Last heard of him working for the Australian Federal Police)
Ruth Nunn (No close relationship but our family name traces back to the same part of England. She actually descends from a Warren Nunn born 1832 in Cambridgeshire)
Noel Oxlade (We have occasional email contact. Noel was keen on planes and we used to ride out past the airport most mornings before school)
Twins Jim and David Purcell who lived two doors away from me in Flynn Street
Rod Reddy (Another Leichhardt Ward old boy. Of course, he played rugby league for Australia and also coached the now-defunct Adelaide Rams)
Rob Schwarten (politician)
Diane Sleaford (a second cousin who passed away in 2017)
Stan Western (I recall he joined the Navy. I met his son by chance 20-odd years later)
Others included: Rosalie Abel, Kerry Adsett, Bill Aspden, Cheryl Atkinson, Judy Belz, Kerrod Biles, Annette Bleney, Jill Bloxsom, Terry Bone, Ray Boswood, Bob Bowser, Rhonda Bradbury, Lee Brittain, Karen Bryson, Nev Butcher, Warren Casey, Karen Cheesman, Lyle Chopping, Alan Cock (later known as Bob Cock?), Jacqui Coe, Clyde Cooling, Sylvia Corones, Dale Corrie, Wayne Crone, Kristine Cruden, Ron Dagan (a near neighbour), Barry Dallow, Rod Davis, Mark Devine, Rod Dew, Stan Dillon, Russell Donaghey, David Evans, Veronica Ferricks, Kerry Fesuk, Noel Finn, Adrian Flint, Wayne Gabel, Noel Ganter, Ron Gill, Ross Goerg, Christine Hoddy, Warren Ivers, Pauline Jasperson, Daryl Kidd, Russ Kindervater, Lesley Long, Sharon Machin, Warren Malone, Gary Mannion, Wayne McDonald, Jon McGhee, Russ McGregor, Michael Moulds, Glen Mullins, Scott Munro, Lee Mylrea, Richard Nolan, Kerry Nufer, Joe Offord, Lee Pastourel, Darryl Petrinec, Sandra Robinson, Phillip Robinson, Mark Ryan, Noel Sands, John Schibrowski, Denise Scott, John Shanks, Graham Shields, Corinne Slatter, Kim Smith, Denise Stebhens, Murray Stoddart, Peter Thomasson, Lawrie Thomson, Helen Tidbury, Russ Tudman, Geoff Walters, Denise Watts, Christine Westmoreland, Bruce Wherry, Robert Whiting, Larry Wooler, Len Zornig.
Sport, play acting but not much schoolwork
Academic I was not. I can't even say I tried hard because I had no real appreciation of what education was. I loved sport and also became involved in school productions.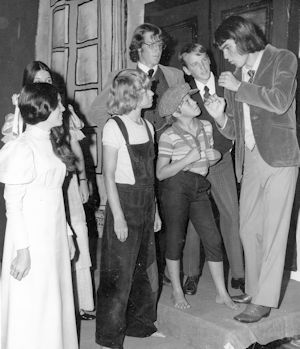 They provide my best memories of high school years. I still try to sing the songs and remember lines from The Pajama Game, Guys And Dolls, and The Music Man.
I so enjoyed the rehearsals, trying to learn to dance (which I still do very badly) and performing on the night.
In 1969 the school did Guys and Dolls which starts with a complicated number called Fugue For Tinhorns where three gamblers sing about which horse they're going to back.
It requires timing and precision that I didn't have as a 15-year-old. The newspaper reviewer wasn't very flattering but it was accurate; we just sang over one another!
The reviewer said a singing weakness, was particularly evident in the opening number, "Fugue for Tinhorns," which has a number of repeated lines calling for crisp treatment. These were completely blurred.
I have a lasting memory of the way in which Kim Smith carried off the role of Hinesy in Pajama Game. He nailed it with an over-the-top effort. He also excelled in the role of Harry The Horse in Guys And Dolls (some audio of that below).
And, in 1972, Ross McLellan was terrific as Mayor Shinn in Music Man. One night he almost pulled off my tie which I had to quickly adjust.
Unfortunately for both Jill Atherton and Kirsten Frisch, our characters had to kiss. From memory I don't think Jill was very keen on it.
After I left school I acquired from one of the teachers, Bob Hutcheon, audio recordings of both Guys and Dolls and The Music Man which I still have. He had striking white hair and the last time I spoke to him I think he was totally blind. He certainly used a cane.
At the start of the 1970 school year I decided to repeat year 10 but left part way through and worked at a clothing store.
Not really knowing what I wanted to do for a career, I headed back to school in 1971 to do my "senior" years.
However, I didn't finish senior because in July 1972, I started as a cadet journalist with The Morning Bulletin. There began a 40-plus year association with newspapers that eventually took me to The Courier-Mail where I spent 27 years mostly as a sub-editor. As an aside, one of my colleagues at Bowen Hills was another Rocky High alumni, Dennis Connors.
Teachers' influence continues
The teachers who most influenced me were Peter Baggett (maths), Barbara Howard (commercial subjects) and Max Barnbaum (geography).
I had "connections" with all three teachers after I left Rocky High.
I discovered that Barbara Howard was my dad's second cousin; I worked with Max Barnbaum's son Mark at The Morning Bulletin; and the electrician who has done work on my house in Brisbane is Peter Baggett's nephew.
One of my memories is going to a shop in Wandal Road where I used to buy a hamburger and a "coke float". From memory it was made from Coca-Cola and ice-cream. Sounds revolting, doesn't it?
Anyway here are some images from way back then … when I had hair!
Lens have a look at those years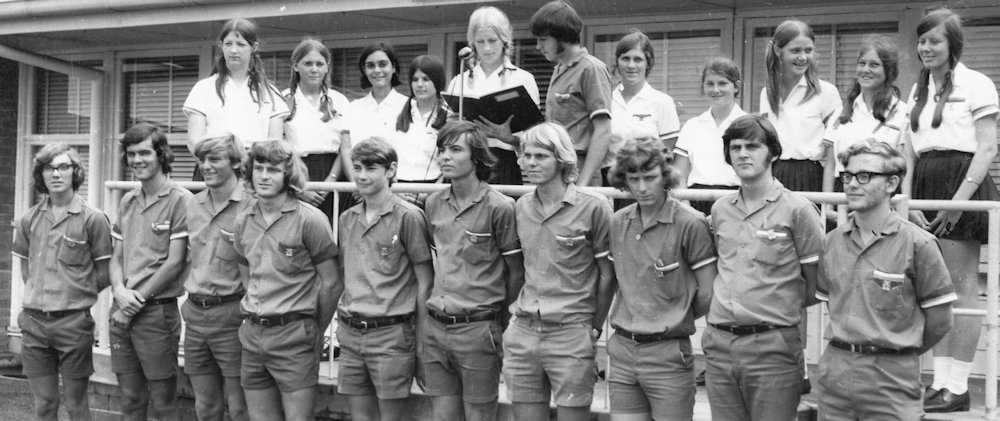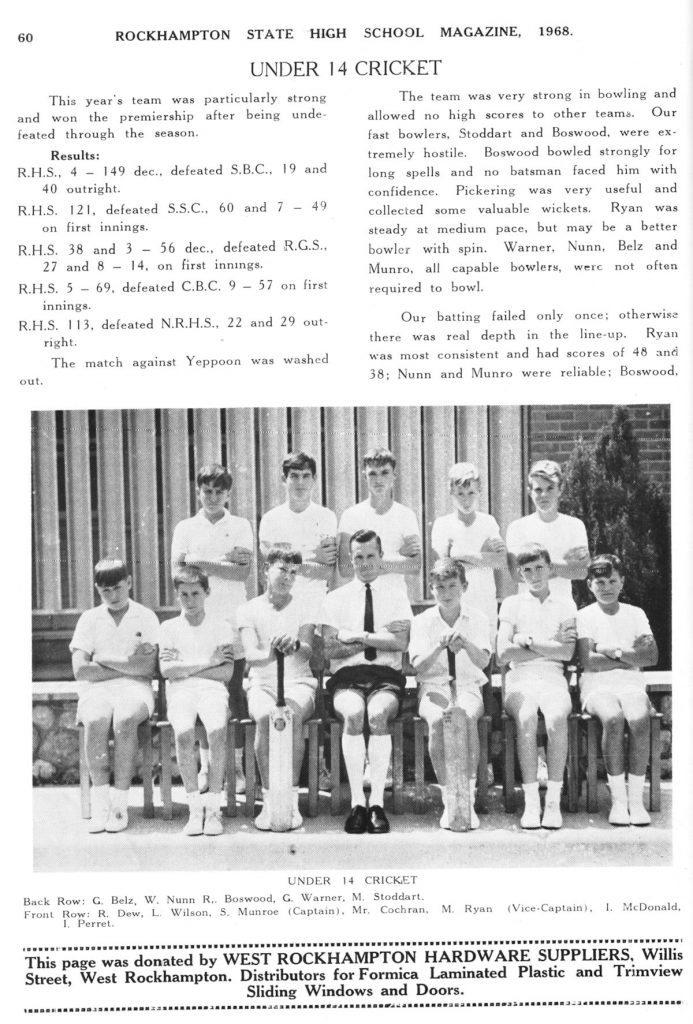 ---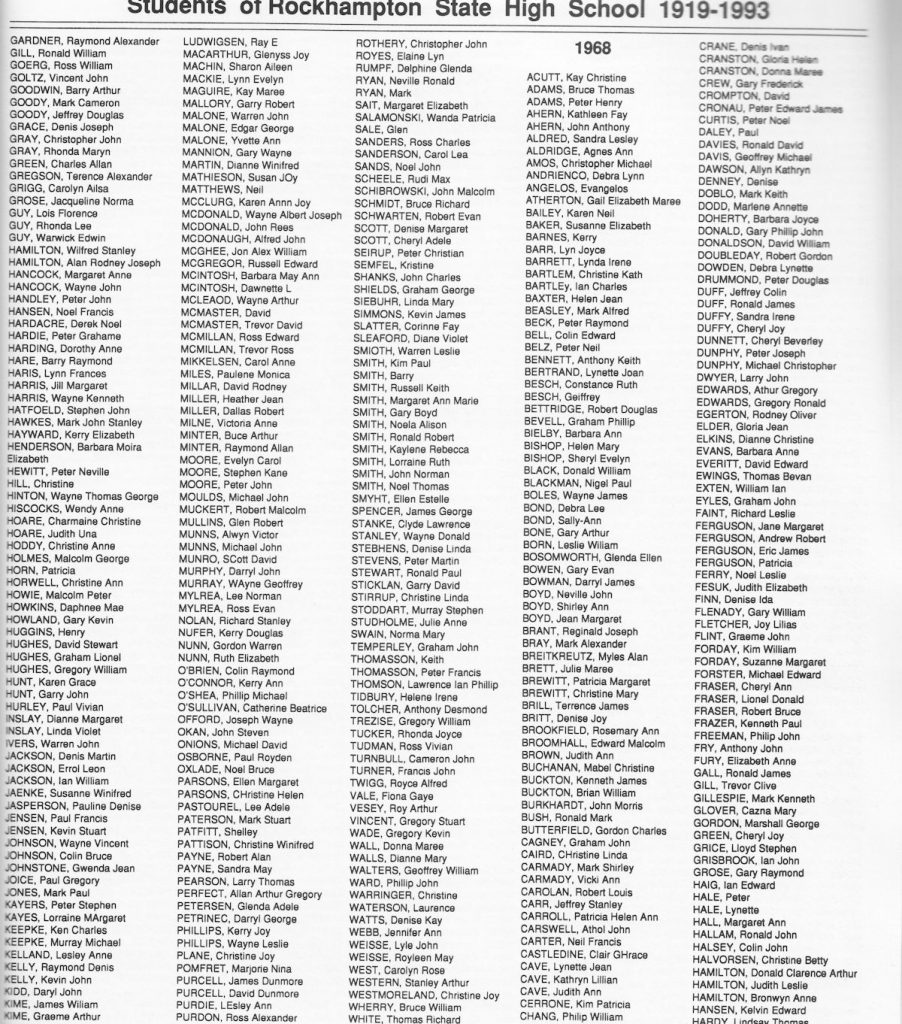 ---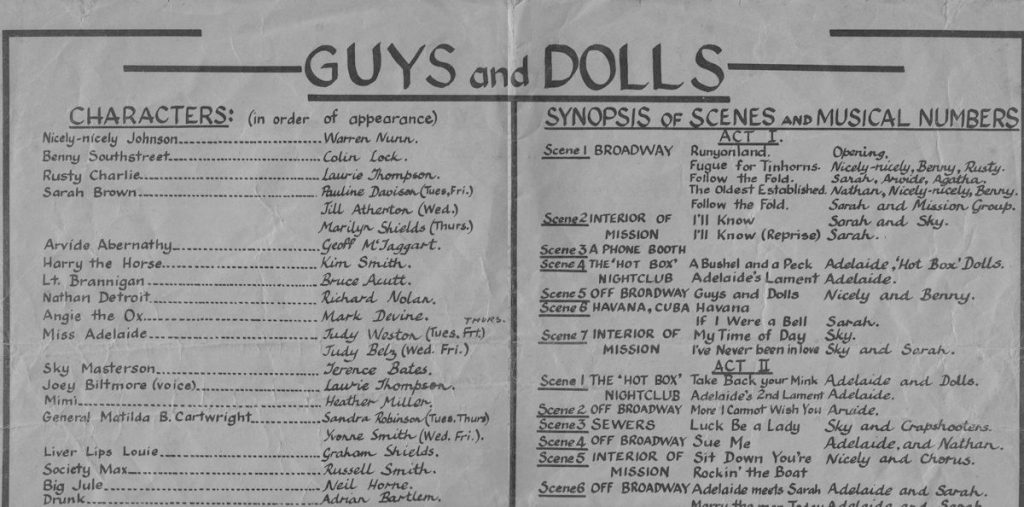 ---
---